Professional Event Platform for Digital and Hybrid Events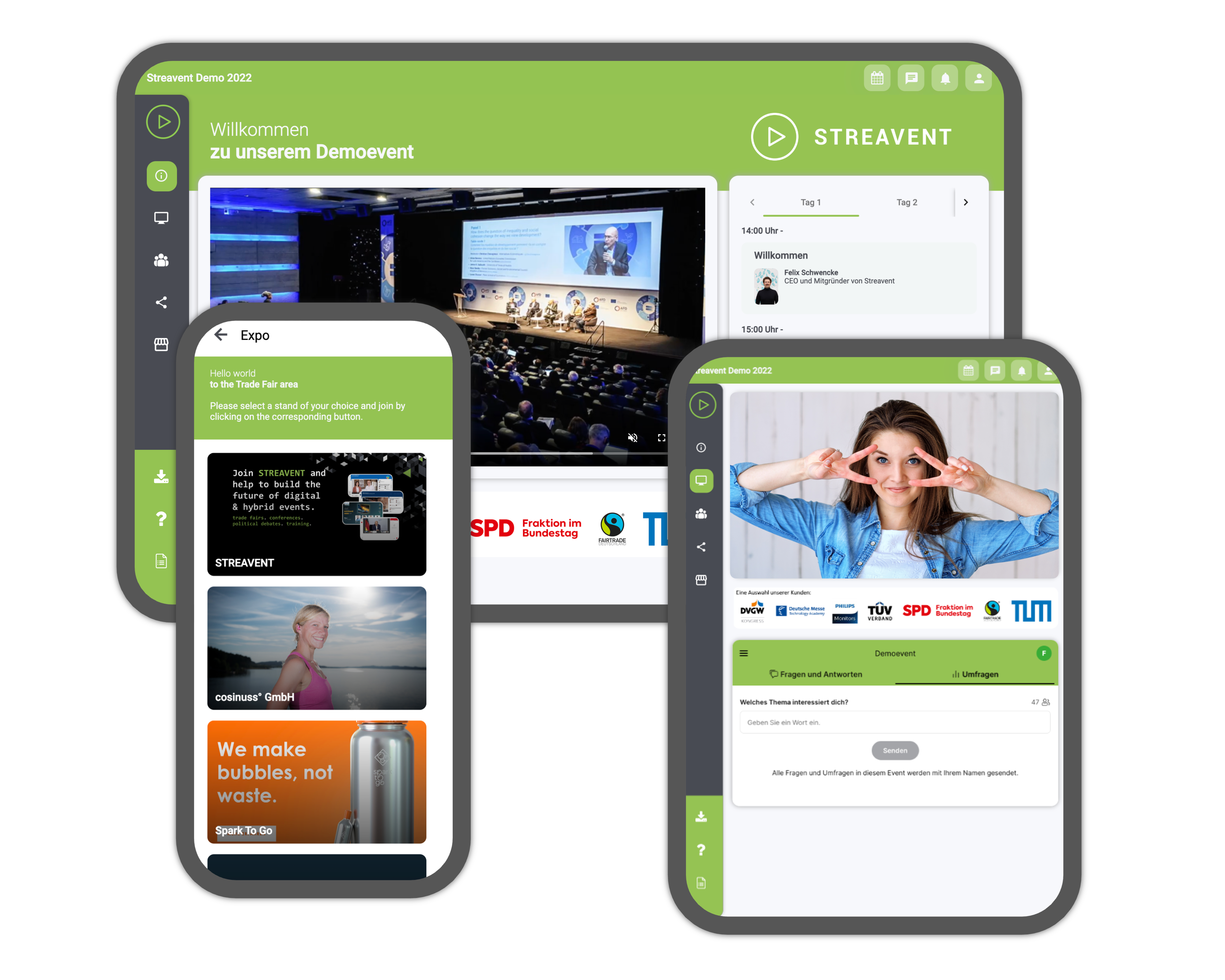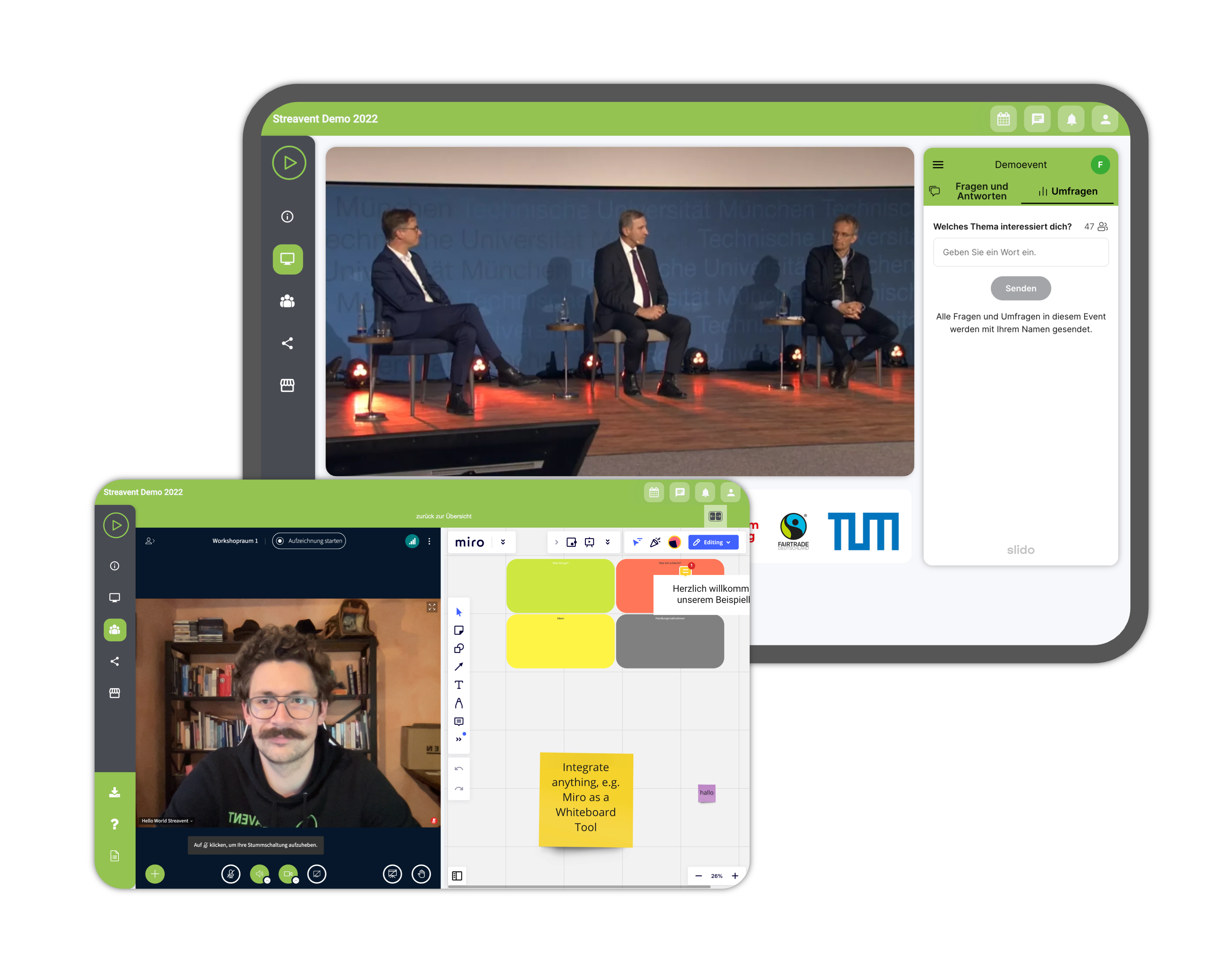 Digital Event Platform: Live streaming, webinars and workshops
Use the live streaming module (RTMP and more possible) for lectures, broadcasts and panel discussions. Participants can interact via chat and take polls.

In our workshop area, video conferences can be used to work together or for webinars, and interaction tools such as Miro can be embedded via split-screen. If you already use a video conferencing tool such as Zoom, you can also embed Zoom meetings and Zoom webinars.
Event Platform: Registration, login and reception
Do the registration for your event either directly via Streavent or via your favorite external tool (e.g. Eventbrite). As soon as the event starts, participants can log in with their ticket code.

Greet your participants in the reception with a welcoming graphic or even a personal welcome video. Your participants can get an overview with the flexible agenda and also see directly who is sponsoring the event.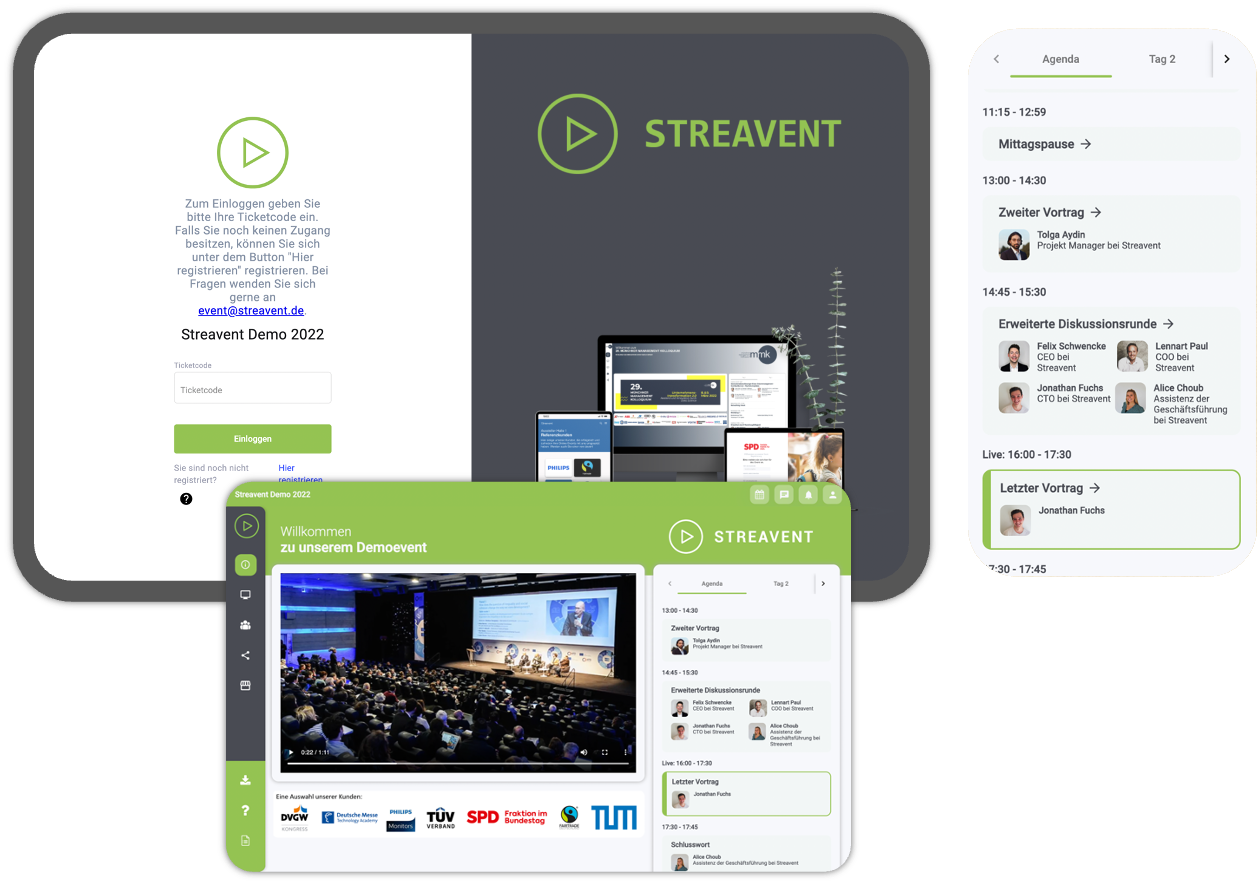 Digital Event Platform: Exhibitors, Media Library and Third-Party Tools
Use numerous options to present sponsors on the event platform. In the exhibitor area, any number of stands can be configured and designed in your own design.

Additional media relevant to the event (e.g. PDFs and videos) can be made available in an attractive form in the media library. This means that participants can always access all content during and after the event.

Third-party tools such as Miro, Calendly or Mentimeter can also be easily integrated into the event platform.

Hundreds of events. Thousands of connections
Our customer base ranges from agencies and associations, political parties and non-profit organizations to companies and educational institutions.
You can also benefit from our experiences with other customers in a free discussion.
Where digital and hybrid events become great experiences.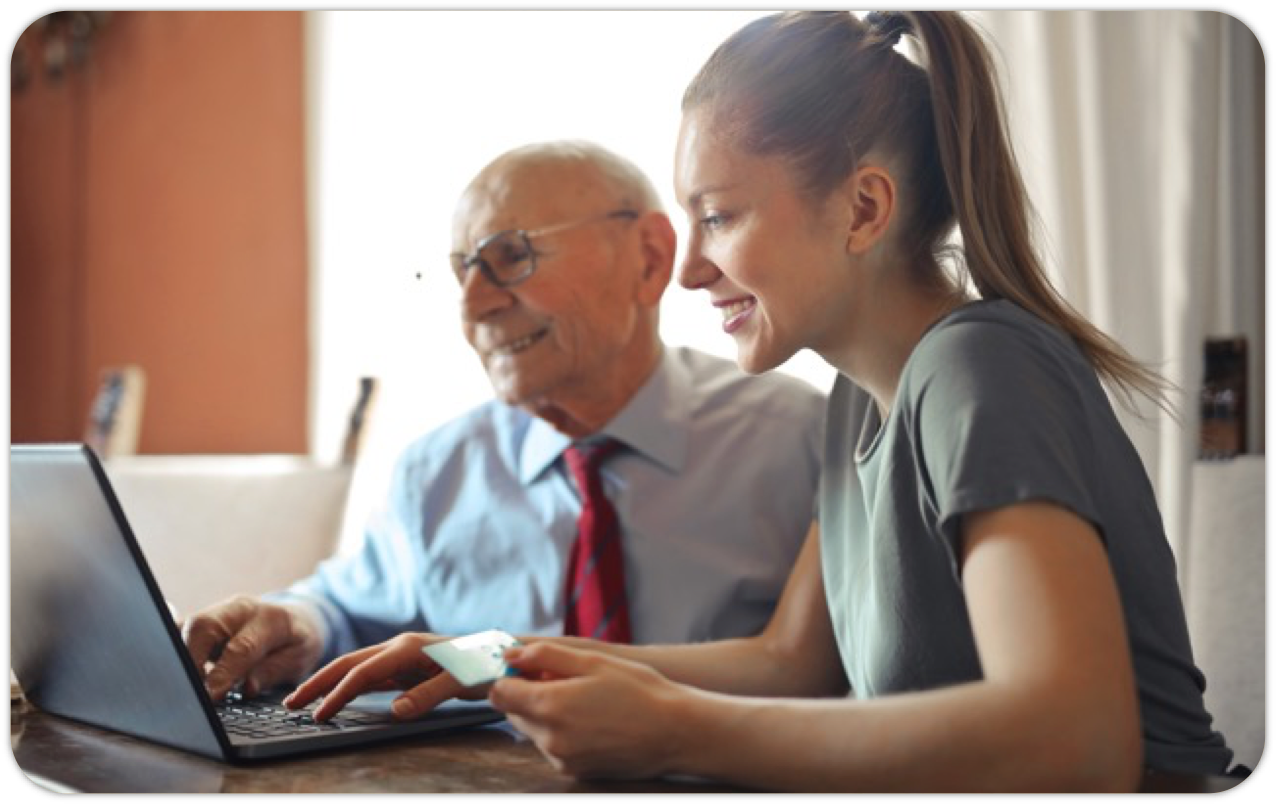 Simply simple
For us, the most important thing is that our software can be used by anyone (whether tech-savvy or not). For both organizers and attendees, we save time and frustration in using it through our intuitive user interface.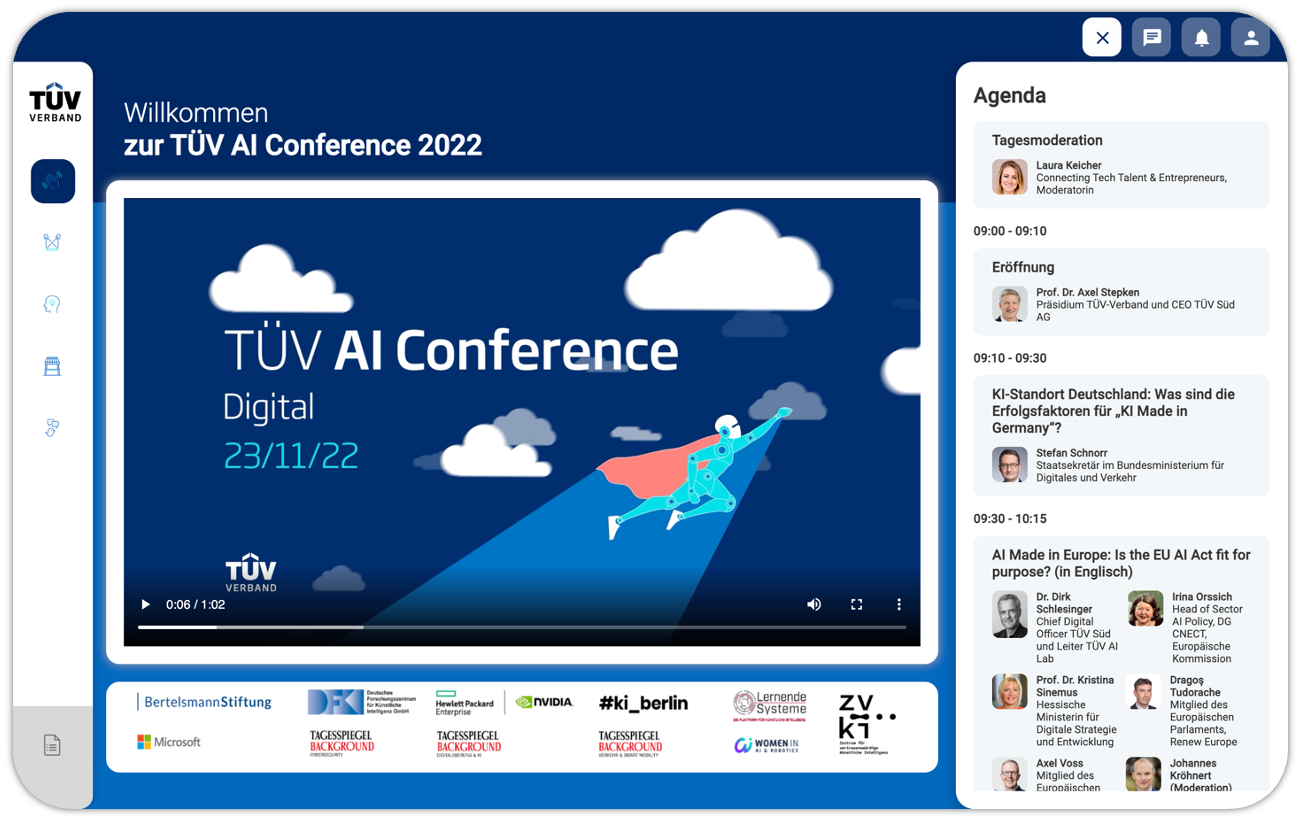 Customized
Streavent is a perfect fit if you need more than a livestream or video call but are also looking for a cost-effective, flexible and perfectly branded solution without hassle. Whether it's an on-site, hybrid or virtual event.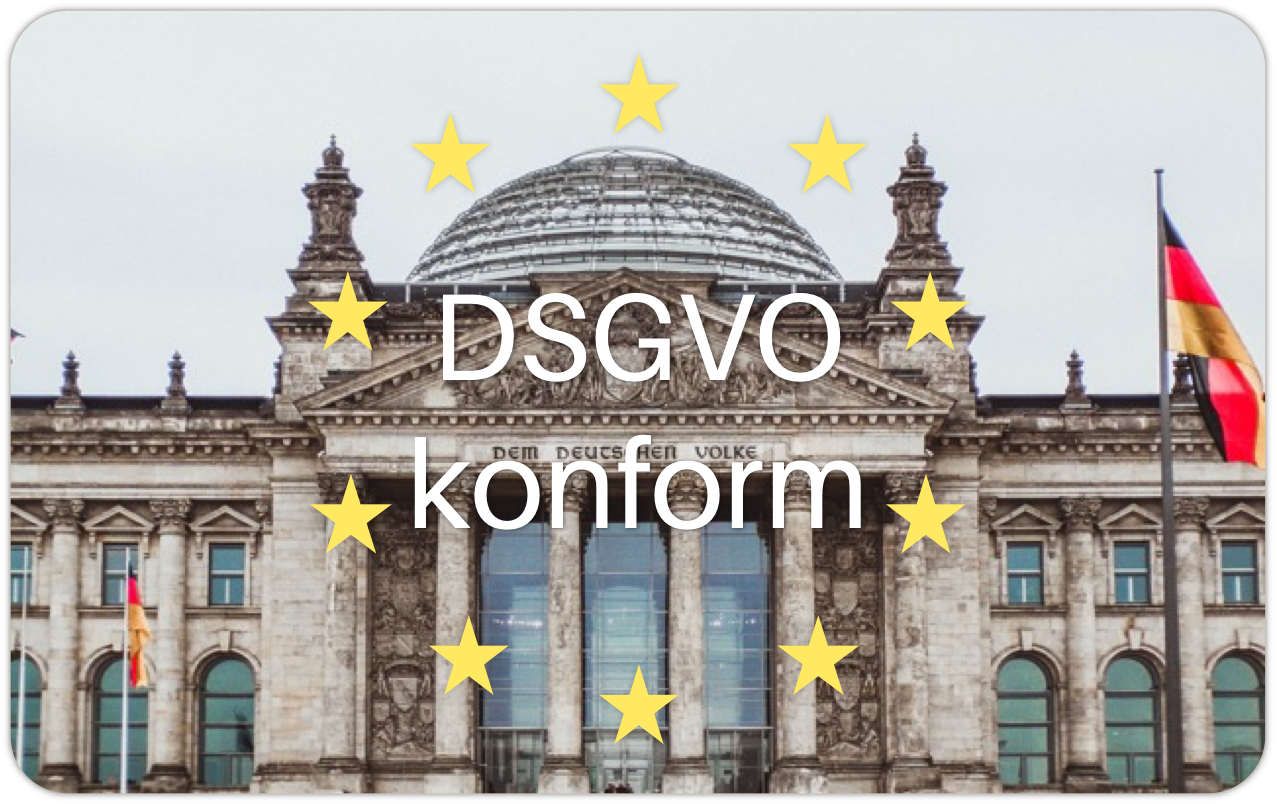 100% DSGVO
As a German company, we care deeply about customer satisfaction and data security. We are constantly developing to provide you with a product that follows the strict, data protection regulations of the EU.
The software for events and education
Easily create professional event apps and event platforms in individual design with flexible functionality.

Whether webinar, on-site, hybrid or digital - Streavent is the right choice and saves time. 100% Made in Germany, 100% DSGVO compliant.